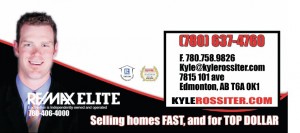 Well we had a fantastic February weather-wise and the market improved over January but it is still a little sluggish compared to last year, mostly in part with the current economic situation in the province.
RESIDENTIAL INVENTORY
Residential inventory saw another significant increase in February, surpassing 6,000 listings on the market, ending the month with 6,681 properties for sale on the MLS® System for the Edmonton Census Metropolitan Area (CMA). That's a 16.17% increase over last month, and 33.41% more homes listed for sale than February 2015. Sales for February were up 36.54% month-over-month at 837 compared to 618 in January, but 10.1% lower than the 931 properties that sold during the same time last year.
"Sales numbers are increasing consistent with seasonal trends," REALTORS® Association of Edmonton Chair Steve Sedgwick explains. "Relative to 2015, potential buyers have more inventory to choose from. Despite this inventory growth, prices have moderated only slightly compared to last year, so home owners and sellers can maintain some confidence that housing prices are remaining stable."
PRICING
– February brought strength back to the average all-residential selling price, ending the month at $363,266
– 6.93% higher month-over-month and virtually on par with this same time last year.
– Prices in all categories saw an increase in the Edmonton CMA market compared to just one month ago.
– Single family house prices averaged $419,940, virtually flat to last month (up 0.24%) but down 2.79% year-over-year.
– Condo properties sold for an average of $247,090, up 8.83% over last month, and down just 1.32% YoY.
– The biggest average price gain came in the duplex/rowhouse category, with the price in February finishing at $354,386, up 8.41% and 1.24% compared to January 2016 and February 2015, respectively.
DAYS ON MARKET
February's average days-on-market for all housing types dropped to 57, down from 71 in January but up from 48 YoY. On average, condos sold in 57 days last month, that's down significantly from the 85 days it took in January, but still higher than the 49 days in February 2015.
"Buyers are still taking their time to consider all of their options before purchasing a new home," Sedgwick said. "But with warmer weather just around the corner, clients are reaching out to their REALTOR for support as the busy spring buying season approaches."
So in short, still a buyer's market but prices are stable especially in the mid to lower price points. There's a decent selection of homes for sale but quality homes will still sell in today's market.
If you have any questions or just want to chat, please feel free to call, email or text anytime.
Cheers,
Kyle Rossiter
---